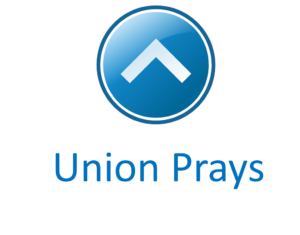 At Union we believe that prayer is the way that we fellowship with God and also how He ministers to us. We want to model, teach, equip, and bring comfort to our church body in prayer and through prayer.
For my house shall be called a house of prayer…Isaiah 56:7
Mission Statement
To help connect people to Christ through prayer. The Prayer Ministry aims to teach and lead the church in both individual and corporate prayer.
Prayer Room
Equipped with tools to help us focus on prayer. It is right in the center of our campus across from the gym. Stop by one Sunday or Wednesday or even during the week to pray.
21 Days of Prayer
Each church year we set aside 21 days to devote to church wide prayer. We have a church wide emphasis on prayer. Each person receives a calendar to follow along and participate in praying for our church and one another. Join us as we devote the beginning of each calendar year and church year to the Lord in prayer.
Sign up to receive periodic emails with prayer requests by contacting Office@DiscoverUnion.org
Need prayer text the word Pray4 to 97000 or scan this QR Code