The childcare center is named Union Child Enrichment Center by the Board.
Site study begins with soil samples and topographical survey.
Architect is Falconnier Design Company.
George W. Reagan Construction Company chosen as our team/build contractor.
Church votes on location of new facility as well as using a design/build firm.
The location will be at the heart of our 24 acre campus between the playground and softball field in what we are calling the Pine Thicket.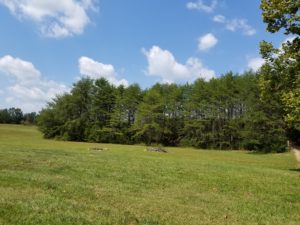 We will begin taking names for a waiting list soon.
Church is prepared to vote on a design/build team on September 17.
WOW! God gave us

$100,059

and exceeded our goal! To Him be the glory!
Kick off Fundraiser will be the starting point of our faith goal of raising $100,000. Join us on Thursday August 24 for a fun time of food, silent auction and entertainment. No ticket required, event is free @ 6:30 in the gym!
Online donations set up as we raise $100,000. Please click the link to help!

Church votes to begin a Childcare Center!
Stay tuned as we begin to minister to kids and their families.
We will post a waiting list for enrollment soon.
A joint proposal from Deacons, Staff, Parents Day Out Board, Church Leadership Team, Finance and Properties Committees:
That Union Baptist Church will begin a Daycare Ministry.
The following steps are part of this process:
Begin a Capital Stewardship Campaign to finance a facility.

Goal of raising $100,000 seed money with $10,000 to start it from our savings.

COMPLETED

Building a facility to meet the guidelines of the Tennessee Department of Human Services to initially house 50 children.

Sign contract with architectural firm for design.

Develop a Building Committee.

COMPLETED

Ensure facility has a multipurpose room for church-wide use.

Hire a Director.

Target opening date August 2018.